Malaysia E-Payroll Management Software Processing and E-Calculator Compliant System
Malaysia E-Payroll Management Software supports every aspect of the payroll calculation cycle. This includes hiring, confirmation, increment, rehiring, internal confirmation and employee's progression details.
Print payslips or email payslips. System generates all company and statutory government reports. Handle payroll without month end or year end closing.
Monthly Payroll Overview
ePayroll Features
Multi Company, Multi Currency, Multi Bank and Payment Mode
Unlimited Employee Master, Salary Group
Salary Scale and Payment Group
No month end no year end clasing
Event base career progression
Definable overtime formulas, fixed allowances & deductions and auto NPL rate
Definable EPF, SOCSO and trace calculation on PCB tax formulas
Dynamic Salary Input, automatic Prorate and comprehensive audit trail
Dynamic Security Access Control and personalized email reminder
Real time employee data and status update
Dynamic Reporting and Complete Management and Government reports
Statistical Charts and Graphs
Consolidation of report of multi companies into single reporting
Payroll Registry Filters and Management View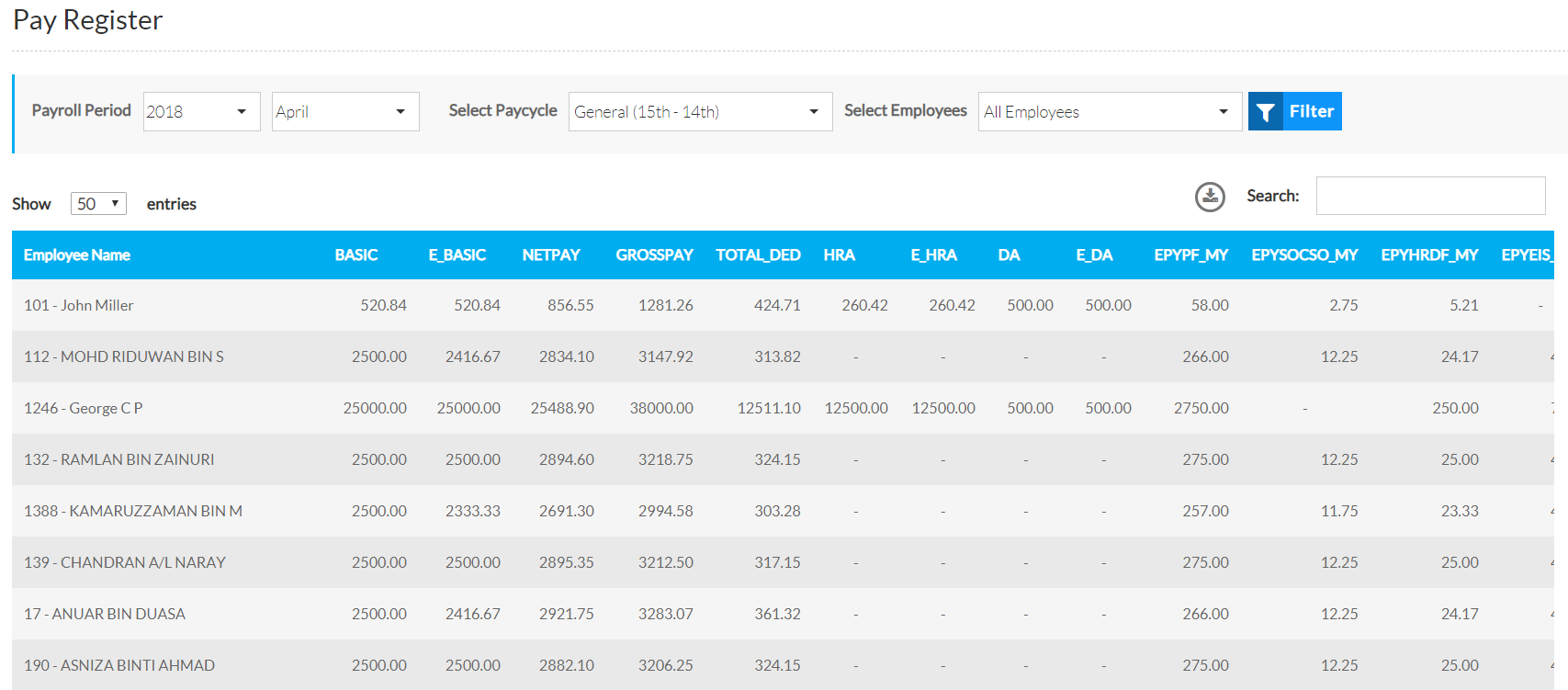 Payroll Registry Excel Download Report
E-Payroll System Setup and Configurations
Process Salary
Salary Batch Entry
Data Migration
Employee Conversion
Allowance update
Employee Statutory Setup
Salary Setup
Individual Custom Rate Setup
Salary Entry Remarks Setup
Bank & Split Payment Setup
Fixed Allowance/Deduction
Auto Bank
Benefit Repayment Setup
Gratuity Setup
Service Point Setup
Salary Arrears Setup
Reminder
Work in Progress Setup
Process Bonus
Process Arrears
Payment Group Setup
Allowance & Deduction Setup
Allowance & Deduction Group
Overtime Group
Unit Rate Setup
Other Setup
Bank Setup
NPL Group
Additional Pay And Deduction Setup
EPF & SOCSO & PCB Formula Setup
Government Report Setup
Statutory Form and Branch Setup
EPayroll FAQ
I have a payroll calculation issue where my PCB calculation does not match the E-Calculator on IRB website. What should I do?
If you are facing a calculation issue, don't panic. Screen capture your calculation from the web and show us the calculation on your screen. Email to use and we will check for you what went wrong. Likely is your setting up of your system, missing information to be updated to the system or your personal deduction relieve is not fully understand and updated by you.
Is ePayroll easy to use?
After you have setup correctly everything is process monthly according to your settings. Few clicks and you can start updating additional details like OT, unpaid leave, additional allowance etc. All calculation is automatic and pro rated if you have new join.
How good is your support?
We have dedicated support personnel on a fixed number to be call during office hours. We can support you through the web and phone or email instructions. We will give priority for payroll issues as and when it arise.
Can  process my Payroll using any devices?
Yes, do it at your own home, office or anywhere using any device. Mobile we have mobile application where you download the mobile apps from our store.
I have limited Payroll knowledge ?
No worry, If you are unsure what are the latest statutory updates or worry whether you are compliant to the government rules and regulations, contact our support team. We also do periodic updates on any new updates from government.