Standalone EClaim Management
Our eClaim or eExpense Claim control and manage department budget and expenses. We simplifies the workflow they way you work. Approved claims can export back to 3rd party Payroll system like HR2000 QuickPay (Ready)
Create & Submit
Review & Approve
Validate & Pay
Set Claim Limit and Set GST Tax Code
Claim processing is time consuming, so we provide 3 approaches to reduce time spend on Create & Submit claim.
Web – with spreadsheet entry.
Ms Excel – download the excel file online with preloaded individual claim entitlement info. Eg. Claim limit and entitle claim type. Fill up the form offline and upload it online later.
Mobile – Optimized for Smart Phone user to prepare the claim anytime anywhere.
Approvers have an option to instantly approve/reject multiple employees claim at once at anytime anywhere using Mobile. Example approver can easily approve >50 employees claim application with 1 single click.
Web Entry Claim Form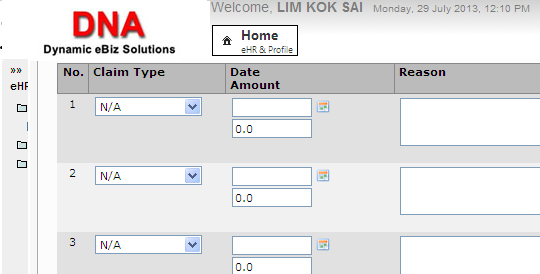 Upload Receipts attachment if necessary
Excel Claim Form (Alternative to web claim form)
Sample Report for Finance Department