KPI Real Time Goals and Performance Tracking
The Appraisal Smart automates Performance Review, productivity, development of core competence and bottom line results.
Accommodates Performance Measures such as

Goals, Objectives, Key Performance Indicators (KPIs), Competencies, and Values.
Performance Cycle :

1, 2, 3, 4, 6 or 12-monthly

performance appraisals, as well as employee anniversary-based.
Handles from 15 to 5,000 employees, covering all staff and managerial levels, at multiple locations.
Provides recording and audit trail of

ACTUAL versus REQUIRED

performance expectations and standards.
Operated on your own

Corporate Intranet, or hosted Software-as-a-Service (SaaS Cloud)
No need for formal training or IT help, no servers to maintenance, and no software to install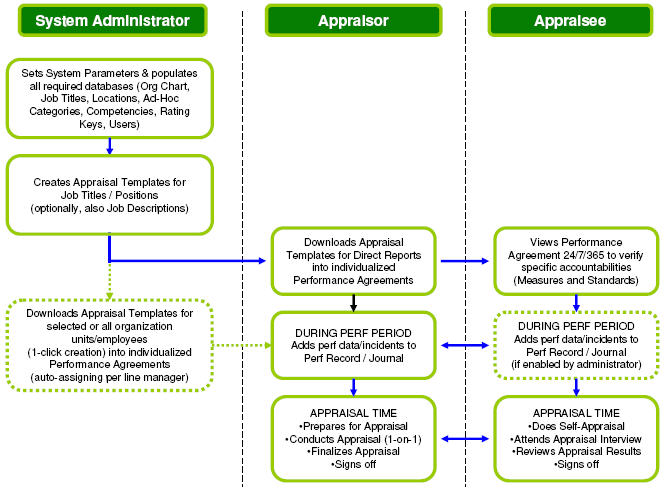 Manager Direct Report Dashboard
Manager can track, monitor, view completed, not completed, sign off and not sign off appraisal. From time to time manager can also do ad hoc appraisal to manage their direct reports for performance. We allow users to update their performance record to the system so that performance can be reviewed at the end of the year during the appraisal process.
Appraisal Dashboard
Online Appraisal Form
Appraisal Continuous feedback process
These rating key is from N/A, 1, 2, 3, 4, 5. The description or usage is user definable.
Generic Rating Key 1

| | |
| --- | --- |
| 5 | Consistently Exceeding Expectations – reflects performance that is consistently exceptional on a continuing basis. |
| 4 | Frequently Exceeding Expectations – reflects performance that exceeds expectations on an intermittent but frequent basis. |
| 3 | Fully Meeting Expectations – reflects steady, competent performance (100% level). |
| 2 | Frequently Below Expectations – reflects performance that is regularly not meeting established standards. |
| 1 | Consistently Below Expectations – reflects performance that is consistently not meeting established standards. |
Generic Rating Key 2

| | |
| --- | --- |
| 5 | Significantly Above Target/Standard (i.e. exceptional) |
| 4 | Above Target/Standard |
| 3 | On Target/Standard (may include slight deviations plus or minus) |
| 2 | Below Target/Standard |
| 1 | Significantly Below Target/Standard (i.e. unacceptable) |
All Performance measures in single form
KPI Weight Calculator
No
Objectives / KPI's / Competencies
WEIGHTS
1
KPI
20
2
KPI
15
3
KPI
0
4
KPI
0
5
KPI
10
6
Objective
5
7
Objective
13
8
Objective
6
9
Objective
8
10
Objective
5
11
Competency
5
12
Competency
8
13
Competency
5
14
Competency
0
15
Competency
0
Total
100
[Heateor-SC]