Malaysia E-Leave system allows organization to maintain, track & monitor employee leave. Designed with workflow process for online approval, making every leave application a total breeze for those applying as well as those approving.
Employees plan, apply & take charge of own leave management conveniently anytime and anywhere. Our E-Leave streamline redundancy of manual leave tracking, monitoring & application process.
Leave features:
Self service leave application
Apply for Time Off
Leave cancellation by workflow
Leave approval and rejection by superior
Leave withdrawal
Leave conversion to other leave type

Leave offset or encash

Batch Leave Entry
Leave Adjustment
Force Leave
Leave Entitlement Prorate
Leave policies setting

Carry forward with leave expiry

Emergency leave policy
Email alert for expiry of leave
Entitlement by per annum or per Incident
Leave entitlement Formula by calendar, anniversary, join date
Control Emergency Leave taken
Individual leave detail report
Leave summary report
Leave Self Service
View own Leave Calendar, entitlement and balance
View

Subordinate Calendar

Share with colleague or

department calendar

Apply or Cancel Leave
View leave taken report
1. View Leave Balance Online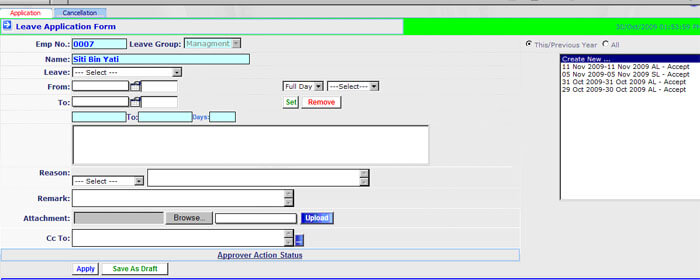 2. Online Leave Application
3. System Generate Email Notification
I got many different locations
No problem, you can set different locations to be managed by different HR Administrator, use different calendar for different country or state, set different policies base on the country or state ruling.
Can I view my staff calendar?
Yes, as a manager you can view your team leave calendar and approve or reject leave application base on your manpower management.
How do I know my leave is approve?
Every new application, system will auto send email notifications for every actions. Approve or reject employee and manager will be notified of the actions.
Can I adjust employee leave balance?
You can either ask your staff to apply for additional leave if there is special occasion or job that has been performed via Self Service or administrator can adjust additional leave for all staff base on company policies.
When approver not around what happen?
If approver does not take action after certain days, the application will be routed to next level or direct to HR administrator.
Leave not approve yet but staff didn't turn up to work
You have to check whether manager did not approve on time or leave is rejected but staff took leave anyway. This will be company policy to de dealt with.